Mar 25
SleepOut for LandAid - Raising funds to tackle youth homelessness
By Marcus Ginn, edozo Chief Executive and Co-Founder
Edozo colleagues joined over 600 property professionals in a joint effort to raise funds to tackle youth homelessness

#SleepOut2021
Thanks to all members of our Edozo team who took part and everyone that donated.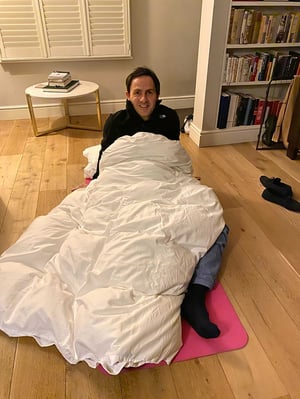 My living room floor isn't carpeted – I like a wood floor. But not, it turns out to sleep on, even with a yoga mat laid out to cushion a bit of the cold and impact of the hard floorboards on my back. Two weeks ago I joined a team of Edozo colleagues who gallantly gave up a comfortable, warm and quality nights sleep in their bed – in return for over £1000 of donations to contribute to LandAid's fantastic fundraising total of more than £360,000.
We have supported LandAid's work to tackle youth homelessness for over two years now and last year we joined their sleep out event that took place at The Oval cricket ground. I remember that as one of the coldest nights that I have ever endured but even when I was awake at 3am I at least knew I would be back in my bed within 24 hours. That is not the reality for the 1000's of young people who don't have a place to call home.
This year, due to the Covid-19 pandemic and lockdown restrictions in place, LandAid held their first ever virtual sleepout fundraiser instead. Thank you to my Edozo colleagues who found a myriad of creative places to sleep uncomfortably for the night. Efforts included battling the wind to put up tent poles in the garden, setting up dens on the floor with young kids (and briefly babies), actually getting into baths and showers or sleeping under desks. There were also reports of pets joining at various points during the night.
LandAid are still taking donations until the end of March so please support if you can but to those of you who have already put your hands in your pockets – a big thank you from all of us that woke up with sore necks. We are all proud to have been part of a team effort of many professionals from across the property industry and we know that every penny raised is going towards LandAid's mission to end youth homelessness.