Jan 18
Edozo featured in Property Week Predictions for 2022
After two years of unprecedented challenges faced by real estate, experts share their predictions for 2022. Property Week caught up with our CEO Marcus Ginn to pick his brains on what is to come.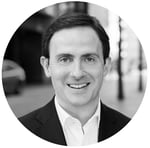 Marcus Ginn's predictions
"Over the last 18 months, rapid changes in the way CRE is transacted mean that up to date, reliable data and technology has never been more vital in making accurate valuations and predictions. In 2022, I therefore expect to see not only an increase in the use of AI and a move from data aggregation to process automation, but also an increase in technology being used to measure and manage the energy performance of buildings. Continuing technology adoption in the property sector will support transparency, efficiency and liquidity, and the smart use of technology will enable investors and professionals to navigate these changes throughout 2022 and beyond. In a bid to keep up with growing tech adoption, more and more legacy software providers will look to acquire innovative new solutions that help them to protect market share, meaning we'll see more mergers and acquisitions across the tech space in the new year as well."
---
Read the article in full here.