Jun 2
Team Member Spotlight - Harry
We are taking you behind the scenes of edozo and introducing our team members, some might sound familiar to you and some others not, but they are all equally important and doing a phenomenal job. Let's get to know the heroes behind edozo.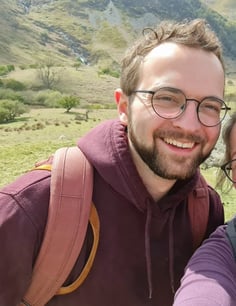 Who are you?
Hi I'm Harry, a senior software developer for edozo. I help build and maintain a lot of edozo's applications some of which you'll recognise, like maps, and a lot more behind the scenes! I've been a software developer for around 8 years, and have been with edozo for the last year and a half.
What do you like about Edozo?
There are two aspects to edozo that I really enjoy; geospatial technology and the team I get to build it with. Mapping technology is complex and interesting; there is a lot of untapped potential. The team we have at edozo is excellent. They're all great fun to work with, super smart, and are excited to deliver high quality products to our users.
What are your interests outside of work?
A real mix of things. From running Dungeons and Dragons sessions with friends, running/walking long distances, playing guitar and singing, and riding motorcycles I don't have much free time. I still manage to catch up on the odd Netflix series though.
Do you have any hidden talents?
I can do a fair number of silly voices. These help a lot when running Dungeon and Dragon campaigns. My favourite voice to do is The Gingerbread man from Shrek. It's just plain silly.
What's one thing you're learning right now, and why is it important?
I'm currently learning to ride a motorcycle. My father has been riding for years, and I've always wanted to take it up myself. I lived in London pre-pandemic, without parking or a safe space to learn. However, last year I moved further north nearer to Milton Keynes, and so now have more of a safe space to learn how to ride. Been thoroughly enjoying it so far, and hope to take my test in the next few months.
What book are you reading now, and why?
I'm currently reading DIE, which is a comic book based around Dungeons and Dragons. Think Jumanji, but much deeper and darker. The story is excellent, and the art work is stunning. Would recommend.